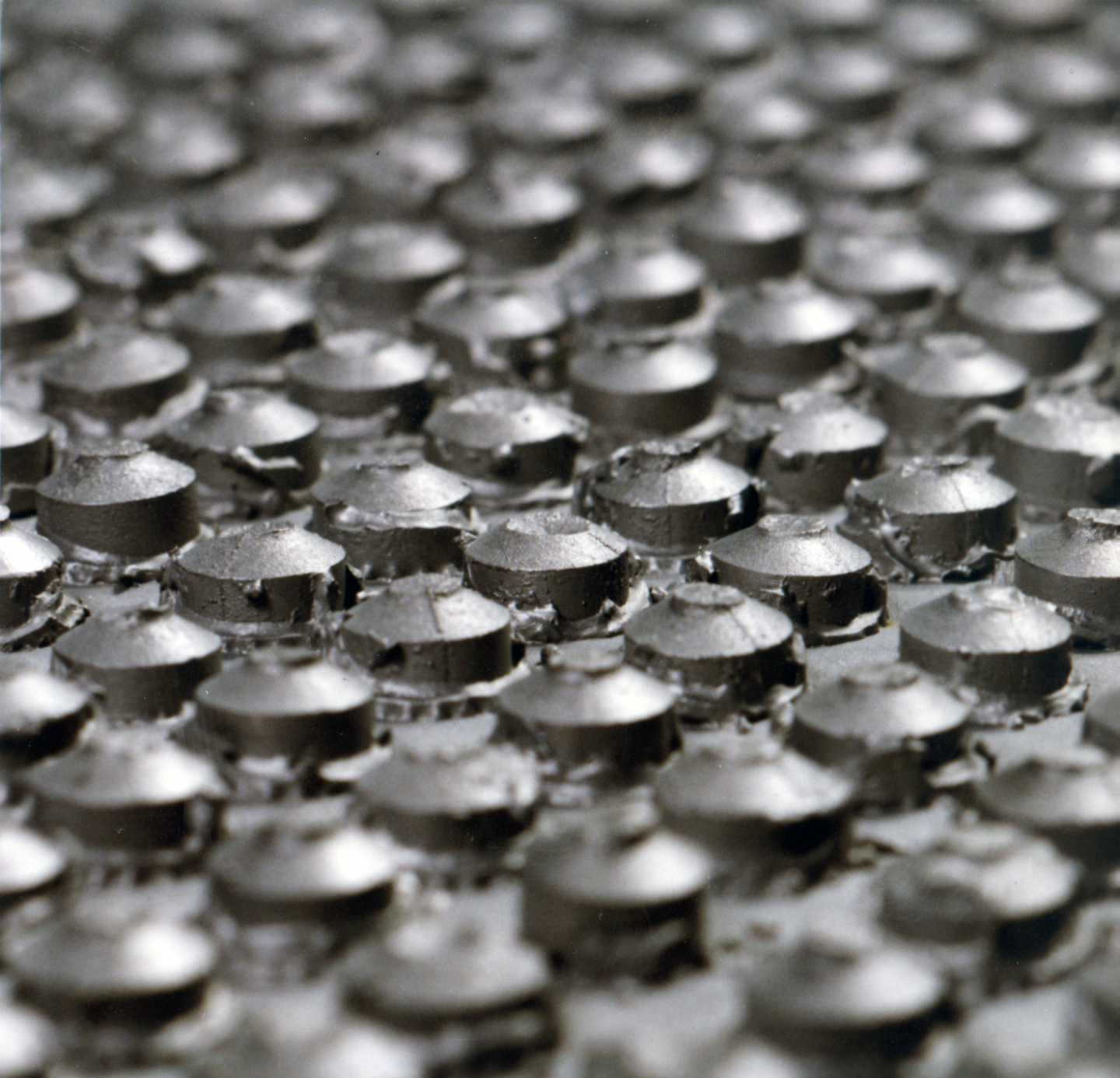 TUFFSTUDD Wear Protection evolved continuously from 1981 until now. At the time manual hardfacing was the primary method of wear protection for ground engaging equipment. Manual hard facing has many negatives. Although the cost of welding electrodes were relatively inexpensive, the application of hard facing:
Is very labor intensive and time consuming

Puts excessive heat into the base material causing stress and cracking

cannot hold material to wear on itself
The stud welding process has been in existence since World War II. The development of stud welding reduced labor time, eliminated two sided fastening of various types and sizes of fasteners as well as reduced heat input to base material. It was determined that the stud welding process could be used to replace manual hard facing as well. In research of welding materials for hard facing, that could be applied with stud welding, it was determined that a high carbon, cast chromium carbide button could be developed. this allowed two accomplishments:
It could be stud welded, reducing labor, downtime and heat input

The diameter could only cover 30% of the area to be protected while 70% of the area would embed with material allowing it to wear on itself-

THE BEST POSSIBLE WEAR PROTECTION.
THE RESULTS SHOWED AN INCREASE OF WEAR LIFE IMPROVEMENT 2-3 TIMES GREATER THAN WITH MANUAL HARD FACING.
WHY CHOOSE US FOR YOUR WEAR PROTECTION NEEDS
100% Cast Chromium Carbide

Lightweight - 6.5lbs/ft2 (30.0kg/mtr2)

30% Pattern Coverage Creates Dead Bed

Stud Welded Installation

Reduced Heat Input

Smokeless welding- no fumes

Horizontal, vertical and overhead position capability

Minimal distortion due to heat build-up

50-60HRC hardness, Excellent Wear Resistance

Reduces Dead Weight-Increased payload

70% Dead Bed Wearing on itself

Reduced downtime-Increased Productivity

Reduces Base Metal Stress

Safer Welding Environment